Welcome!
All Pack Specialists, Inc. & The MUSE is a national company recognized as a leading source of packaging & promotional products, sought after for our quality, creative and competitive solutions by commercial & retail businesses, cultural & educational institutions and public & private groups. We want to be your one-stop source for packaging & promotional products. Our six product lines include:
Logoed Apparel
Promotional Products
Retail Packaging
Shipping Supplies
Tradeshow Supplies
Earth Friendly Products
All Pack Specialists, Inc. & The MUSE can help you find a cost effective way to market and promote your organization through packaging & promotional products that speak to your customers and clients through quality and a consistent branding image. Our Customers Get Noticed!
Featured Item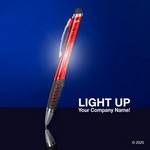 Luminate Delta Stylus Pen
Features LaserSharp™ Engraving, comfort grip and a unique illuminating imprint. Includes a touch screen stylus tip. Black or blue ink optional. Default ink is black.
$2.90 - $3.30
Take a look at this website and see some of the e-catalogs that we have to offer. No need to have a lot of catalogs taking up space in your file cabinet or on the floor of your office.
Signature Showrooms