Welcome!
All Pack Specialists, Inc. & The MUSE is a national company recognized as a leading source of packaging & promotional products, sought after for our quality, creative and competitive solutions by commercial & retail businesses, cultural & educational institutions and public & private groups. We want to be your one-stop source for packaging & promotional products. Our six product lines include:
Logoed Apparel
Promotional Products
Retail Packaging
Shipping Supplies
Tradeshow Supplies
Earth Friendly Products
All Pack Specialists, Inc. & The MUSE can help you find a cost effective way to market and promote your organization through packaging & promotional products that speak to your customers and clients through quality and a consistent branding image. Our Customers Get Noticed!
Featured Item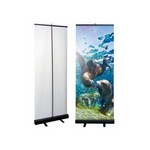 Economy Retractable Banner Kit (24"...
Our most popular retractable combo. The Economy Retractable Banner is the highest quality banner stand on the market at this price. This custom stand is available in two different sizes (24"x78", 33.5...
$125.45 - $143.63
Take a look at this website and see some of the e-catalogs that we have to offer. No need to have a lot of catalogs taking up space in your file cabinet or on the floor of your office.
Signature Showrooms